Browsing articles tagged with " performance"
The Point
Locust is, if you believe the hype, the HOLY GRAIL of obscure Python-based distributed load testing tools with real-time web-based statistics: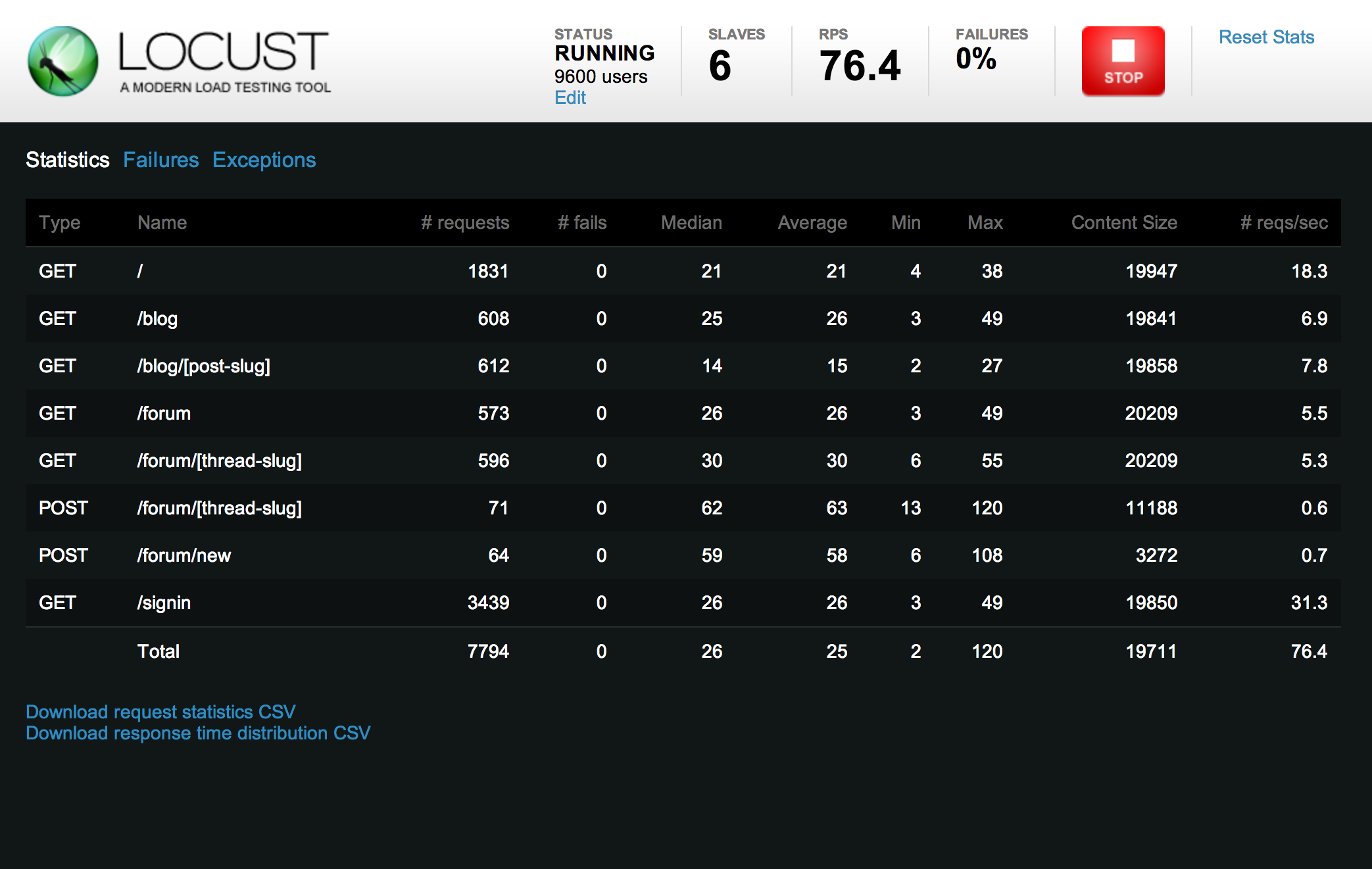 I've tried a few different times to get Locust up and running on Windows, and every time something has gone wrong enough for me to be demotivated and quit.  'Cause, y'know, I'm a quitter.
Until now!
My goal is to help YOU get Locust setup on your Windows machine in the "recommended" way, so you can bring down your server by flooding it with thousands of requests too.  There is something awe-some about having the power to bring down a server remotely just by typing "100,000" in the "How many users?" input box…
On a recent project, I was tasked with analyzing an existing application and determining what could be done to improve its performance: meaning page load times.  The site was written in PHP with a MySQL database so I'll focus this post on how I went about it for this set of technologies.
Baseline Metrics
With any optimization project the first thing you should do is create a set of baseline metrics for how the application is currently performing.  Why?  So you can take full credit for all the wonderful improvements you make, of course.  You'll be able to say smart things like, "We were able to increase overall performance by 243.71%."
A great open source tool for creating these baseline metrics is Apache JMeter (http://jmeter.apache.org/).  You can use JMeter for performance testing as well as load testing.  The basic idea is that you create a test plan and then tell it to run that plan for X users Y times each and it plugs away at it while keeping track of page load times along the way.  You can create a single test plan to go through all of the common actions within the application or create a different test plan for each logical section, it's up to you.  I would start with a general plan that covers most of the application and then add more later if needed.